This book offers a pathway for drummers, producers, songwriters, DJs, and beatmakers to expand their groove palette. By limiting your options (putting yourself in a creative box), you gain a better understanding of what your options are. Each page includes a creative box or ostinato (repetitive pattern) followed by six examples of how these can be altered. Additionally, space is provided at the bottom of each page (and more at the end of the book) to create your own examples in workbook fashion. Creative Boxes also helps drummers develop their technique, independence, rhythmic understanding, sound-driven decision-making, dynamics, and accuracy. The guide is perfect as a supplement but also functions well as a primary learning tool. The accompanying video covers each exercise in the pages ahead.
The exercises in Two Surface Learning are carefully designed to help you improve your dexterity and accuracy moving from one surface to the other and advance your skill development and conceptual understanding in a number of areas: right- and left-hand lead, crossing over/under, accenting, groupings, three-note patterns, rudiments, melodic playing, combinations, funk, odd time signatures, call & response, and duplet to triplet flow.
---
Study the trademark songs, grooves, solos, and techniques of the madman drum god, Keith Moon. This comprehensive book and audio teaching method provide a detailed analysis of Moon the Loon's kit, style, songs, grooves, fills, solos, and much more. You'll learn everything you need to know about Moon's groundbreaking drumming. Each book also includes a unique code that gets you access to online audio samples of all the music in the book. Songs covered include: "Baba O'Riley," "I Can't Explain," "The Kids Are Alright," Pinball Wizard," "Substitute," "Who Are You," "Won't Get Fooled Again," and more.
---
This book will help you pull multiple sounds out of only one drum (check out the free accompanying video on this topic), discover convenient and/or interesting ways to move around the drums, infuse tribal and Afro-Cuban patterns into your playing, unveil creative approaches such as counterpoint and call & response, and learn grooves & licks from the tom loving masters.
---
You have to love the expressive quality of the hi-hat. However, you're really missing out if you haven't explored the limitless versatility and musicality of the ride cymbal. Funk Up Your Ride will hopefully entice you to get started down that road or open you up a whole new palette to draw from. The book includes seven sounds that you can get out of the ride, many ways to improve your coordination, rudiments, polyrhythms, syncopation, and grooves from around the world. The final section involves transcriptions of ride patterns from iconic drummers, including Stewart Copeland, Neil Peart, Bernard Purdie, and Ringo Starr.
---
The premise behind Funk Up Your Snare is rebellious in nature. If you want to sound like a robot, this book might not be for you. A three-dimensional style is favored over a monotonous, stiff feel. However, the exercises here are also a means to an end. You will immediately notice an improvement in your left-hand control and accuracy and the way that you hear your beats in the overall context of the music. Ironically, in going down this path, you will also be better equipped to nail those lunch-pail, one dynamic backbeats demanded by your lead singer.
---
A series of three booklets, Funk Up Your Hi-Hat was inspired by drumming great, Carter Beauford. Alternating hi-hat technique is explored, providing a fun and useful way to spice up your grooves while improving rhythmic accuracy and coordination. Part 1 is a 19–page PDF that contains 216 beats designed to improve your alternating hi-hat technique and coordination.
---
Part 2 is a 19–page e-book containing 126 applications of the beats found in Part 1. The Funk Up series is designed to improve your alternating hi-hat technique and coordination.
---
This 19-page e-book contains 288 measures of hi-hat exercises designed to improve your alternating hi-hat technique and coordination, including advanced applications.
---
The Jazz Waltz is not only meant for professional drummers looking to improve their craft, but for up-and-coming jazzers, band directors, and additional rhythm section members (bass players, keyboardists, etc.) as well. Playing in 3/4 time is a microcosm of all jazz drumming, so once you've learned the material in this book, you will notice an immediate improvement in your overall playing. It might even help you land that coveted gig.
---

Author/Teacher/Performer Andy Ziker bases this unique beginning drum method on his many years of playing and teaching experience. The following topics are covered: how to practice; drum set vocabulary; techniques for hands and feet; sticking options; reading, writing & playing rhythms; the mathematics of rhythm; beginning patterns; rock beats & fills; rudiments; applying accents; double bass basics; and much more. Accompanying video (in the form of a YouTube playlist) will soon be available for each page in the book. Drumscapes is perfect for drummers six years and up. Both students and teachers will find the book a valuable learning tool. This NEW REVISED EDITION is available in both softcover and ebook.
"…Andy has taken the time to make the book fun…like a workbook…but without the intimidation…" -Drummer Cafe
"A unique method book for the novice…very thorough and well-sequenced." -Percussive Notes
"…lots of bang for the buck in this package." -Modern Drummer Magazine
"A great tool for drummers of all abilities and would equally serve as a refresher course for many. Invest." -iDrum Magazine
"Few do such an effective job of teaching the basics." -Mike Dolbear
---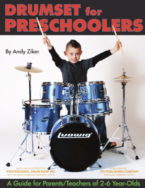 Written for parents/teachers of 2-6 year-olds and utilizes a color coding music notation system commonly seen in music video games. The book is organized in three skill levels giving the teacher or parent flexibility to decide which level best fits their child's abilities. Parents who don't even play drums will find this book easy to use as it covers everything you need to know to get your child drumming and having fun
---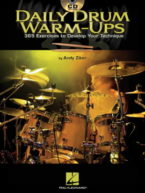 The book includes 365 fantastic warm-ups – one for every day of the year! Covers essentials such as rudiments, patterns, weak hand builders, triple strokes, finger control, odd-time, and much more. Drummers will improve their speed, dexterity, accuracy, coordination, and dynamic control, while developing their stylistic repertoire. The CD includes every exercise, 20-foot ostinatos that can be used as play-alongs, and five brush examples. It's also enhanced so Mac and PC users can adjust the tempo without changing pitch.
---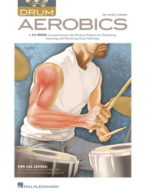 A 52-week, one-exercise-per-day workout program for developing, improving, and maintaining drum technique. Players of all levels – begin to advanced – will increase their speed, coordination, dexterity and accuracy. The two CDs contain all 365 workout licks, plus play-along grooves in styles including rock, blues, jazz, heavy metal, reggae, funk, calypso, bossa nova, march, mambo, New Orleans 2nd Line, and lots more!
---

As a young child, Devan's clumsiness unexpectedly leads to his discovery of the beautiful sound of percussion. In this illustrated children's book, Devan overcomes real-life obstacles, including his mother's dislike of 'all of that noise' and an uncooperative band teacher, to pursue the art of drumming.
---

Steve is a small, shy boy who gets routinely bullied on the playground by a behemoth named Ricky. One day at school, Steve hears the beautiful sound of a classical guitar coming from the music room. His music teacher allows him to spend lunchtime there each day, where he learns to play the guitar. Does his burgeoning musical talent help stem the tide of the bullying?
---

Andy misinterprets the meaning of an advertising slogan, and the results are both hilarious and touching. People Really Do Trust Ziker is an illustrated children's book that inspires emerging readers, teaches the importance of trustworthiness and family, and challenges young people to think critically.